Let the Waves hit your feet, and the sand be your seat
Looking For Beaches In Galveston?
Take a step to the beautiful beaches of Galveston, Texas and soak up some sun while feeling the soft sand between your toes. Listen to the gentle waves crashing on shore as you explore all this location has to offer from its many different beach spots to various attractions suited for everyone's needs! The best beaches here will make your stay unforgettable- ranging from dining options nearby or accommodations offering great service, so get ready for an amazing experience.
Galveston's beaches are a popular destination for tourists from all over and are enjoyed daily by many locals. Common questions often revolve around the best beach access points, water safety, and nearby amenities such as showers, restrooms, and nearby restaurants. Visitors frequently ask about available water sports like jet skis and paddle boards, beach conditions, amenities, and parking, as well as which beaches have lifeguards and beach patrols.  Check our FAQs for all of your Galveston Beach Questions and enjoy all Galveston Beaches have to offer.
Discover the joy of sand castle building on Galveston's East End, where beaches become havens for creative expression. At Stewart Beach, families revel in the art of crafting sandy fortresses, creating memories as enduring as the tides. The allure of Beachtown Beaches welcomes aspiring architects to shape the shoreline with their imagination. With a bucket, shovel, and the endless canvas of East End sands, your sand castle dreams come to life against the backdrop of the Gulf's soothing rhythm.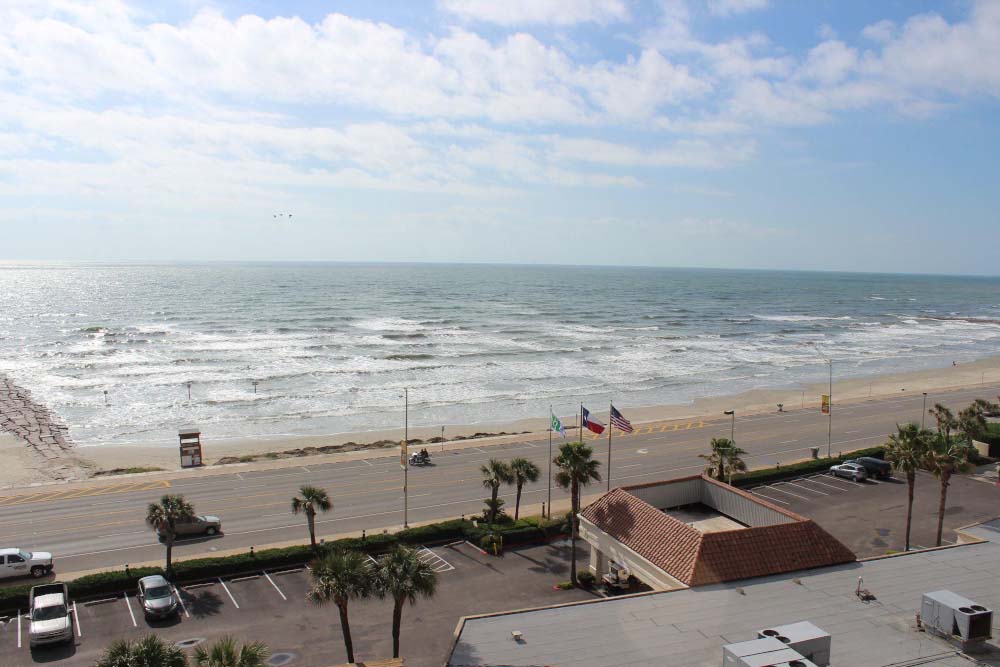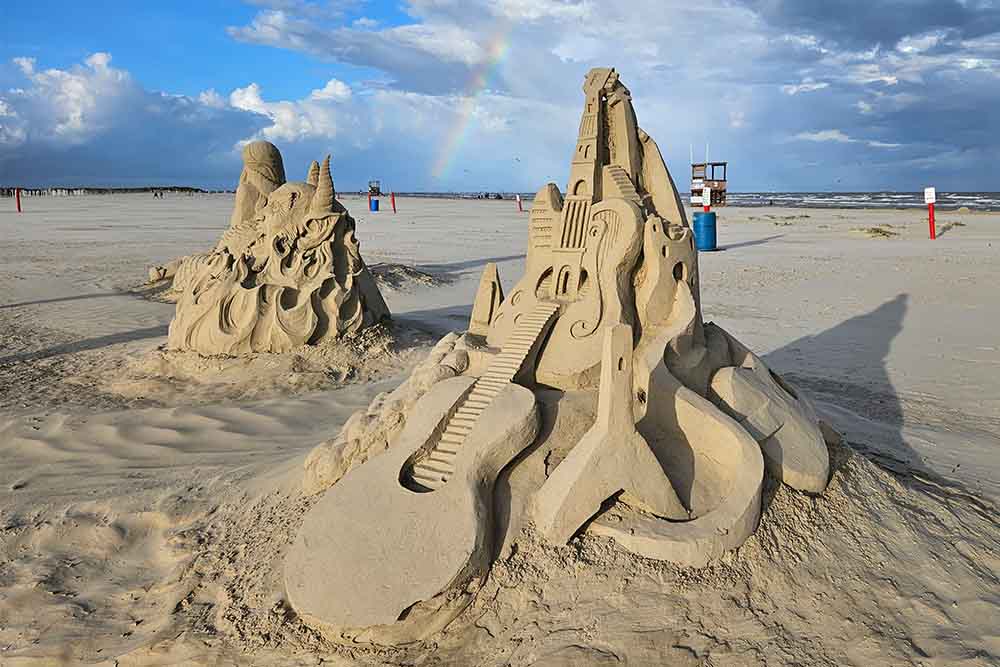 Get ready to unwind and soak up the sun on Galveston's Seawall, home to some of the island's most inviting beaches. At Porretto Beach, dive into a lively beach scene with bustling activity and warm sands. Head to Galveston Beach for a serene stretch where leisurely strolls meet the gentle lull of the Gulf waves. For a touch of luxury by the sea, Diamond Beach offers pristine sands and indulgent amenities, providing the perfect backdrop for relaxation.
Enjoy a journey of coastal wonders on Galveston's West End, where a variety of beaches await your discovery. Experience the secluded tranquility of Beach Pockets 1, Beach Pocket 2, and Beach Pocket 3 (Sea Shell Beach), offering natural hideaways along the Gulf. Immerse yourself in the unspoiled landscapes of Galveston Island State Park, where nature and beach life harmonize. From the laid-back vibes of Jamaica Beach to the playful charm of Pirate's Beach and the vast beauty of West Beach, each West End beach unfolds a unique chapter in Galveston's coastal story. Dive in and create lasting memories amidst the gentle Gulf breezes.
Why do I need to visit Galveston Beaches in Texas?
Galveston Island, situated near Galveston Bay and just an hour away from Houston, stands as a haven for Gulf Coast beach enthusiasts. From the bustling hotspots along Seawall Boulevard to the scenic vistas of the East End and the tranquil escapes of the West End, Galveston offers a beach experience tailored to every preference. Whether you're engaging in exhilarating water sports like jet skiing or simply unwinding with a good book on the sandy shores, you're sure to soak in an excellent dose of Vitamin Sea.
Explore the diversity of Galveston's beaches, including popular destinations like East Beach, Stewart Beach, and the Galveston Island State Park. Each presents a myriad of possibilities, from snorkeling amid captivating marine life to various seaside amusements. Additionally, venture into the West End, where hidden gems like Palm Beach, Bermuda Beach, Terramar Beach, and Sea Isle Beach await. While some access points may be private, there are public access spots offering great beach spots for your enjoyment.
Before you wrap up your day, make sure to witness the mesmerizing sunsets that grace the Texas sky, leaving you with unforgettable memories. Galveston Island beckons with its unique and easily accessible experiences, inviting you to explore the scenic beauty and natural wonders that make this seaside paradise truly exceptional. So, what are you waiting for? Take a break soon and discover the amazing beaches that await within the serene embrace of Galveston Island.
Tucked away on Seawall Boulevard, Porretto Beach is the perfect place for a tranquil beach escape from Stewart Beach. With its less crowded and pristine sandy shores, visitors can relax in comfort with umbrella rentals and chair rental options available. Plus there are lifeguards that ensure everyone's safety while they swim or sunbathe! You won't have to worry about getting hungry either – nearby food outlets make sure you're well-fed all day long.
In short, if it's seclusion coupled with peace of mind then Porretto Beach makes for an ideal spot to spend some time by the sea. Especially when compared to public beaches like Stewart which might be busier but come at a tradeoff of lower quality standards overall.
So bring your sunscreen along as you head over to this special corner on Seawall Boulevard -you'll certainly feel better after indulging in some much-deserved R&R here surrounded by ample sand beneath your feet rather than just concrete alone.
East Beach, R.A. Apffel Park, or 'Party Beach' is the largest of Galveston's beaches and provides an array of amenities and entertainment opportunities to its visitors. There are many activities you can engage in such as collecting seashells on the shoreline, playing volleyball with friends, swimming in crystal clear waters, or laying out for a relaxing sunbathing session while picnicking with family members nearby, making it impossible not be entertained at this spot!
East Beach also offers convenient services like restrooms and shower facilities which adds convenience to your day at the beach. Making all these offerings available makes East Beach stand out as one-of-a kind choice when seeking fun filled memories made near sandy shores. Lastly, there have been exciting events held live here that anyone can attend completing their experience perfectly – so if you're looking forward for days full of joyous moments don't hesitate coming by East Beach, the Party beach!
Discover the vibrant charm of Jamaica Beach, nestled towards Galveston's West End. Here, you can embrace the laid-back atmosphere, parking your car in the sand to enjoy the beach vibes. While you won't find cars directly in front of the beach, the lively energy and vibrant surroundings make Jamaica Beach a delightful destination for those seeking a coastal escape with a touch of West End allure.
Stewart Beach is an ideal spot for families who want to spend the day at a prominent beach. With cabanas, a playground, and many beach activities that cater to all ages available March through October (protected by lifeguards), this destination has plenty of attractions suitable for young ones and adults alike. Comfort features like accessible restrooms, outdoor showers as well and wheelchairs provide convenience while parents have peace of mind knowing their kids are safe in the supervised environment. To top it off with breathtaking sunsets which makes Stewart Beach quite an unforgettable experience!
Venture beyond Galveston's shores to explore the pristine beaches of Port Bolivar and Crystal Beach, where coastal charm meets untouched beauty. Port Bolivar Beach welcomes you with expansive stretches of sandy bliss, offering serene escapes and panoramic views of the Galveston Bay. Head to Crystal Beach, a laid-back haven where the Gulf's gentle waves meet soft sands, creating an idyllic setting for beachcombing and relaxation. Whether you seek the tranquility of Port Bolivar or the relaxed vibe of Crystal Beach, both destinations promise a coastal getaway infused with natural beauty and the soothing melody of the Gulf.
Your Visit, Our Expertise – The Perfect Match!
Yes, Galveston beach is safe for swimming. The water conditions are favorable, and you can enjoy a dip at the shoreline without encountering any risks.
All our Galveston beaches have their unique charm—it just depends on your preferences. The West End beaches typically offer a more serene and spacious experience, providing a tranquil escape. On the other hand, Seawall beaches are conveniently close to various establishments, catering to those who enjoy a lively atmosphere.
For instance, San Luis Pass may boast the clearest water, but it's not suitable for swimming. In contrast, Sunny Beach allows you to park your car right in front of the water, providing easy access, while Porretto and Babe's Beach offer the convenience of nearby restaurants, restrooms, and showers. Your ideal beach experience awaits, tailored to your individual likes and desires.
Yes, visiting Galveston beach is completely free. While you may need to pay for parking on the Seawall, enjoying a beautiful sunrise or sunset from any of the beaches won't cost anything. Various beaches in the area offer a fantastic experience without breaking your wallet.
Yes, almost all of Galveston's beaches are pet-friendly. Sunny Beach stands out as an ideal destination for a pleasant day with your canine companion, offering pet-friendly amenities and an enjoyable experience for both you and your dog.
Looking for a place to stay ?
Hotels
Book the perfect hotel near the beach or on the beach in Galveston. Start your beach vacation with the perfect room.
Rv Parks
Find the right RV park with hookups, beach access, picnic tables, pool, potable water, sewer, and electrical services.
Home Rentals
Feel like you never left home and relax like you're on vacation with the perfect Vacation Home Rental. Find your beach paradise.