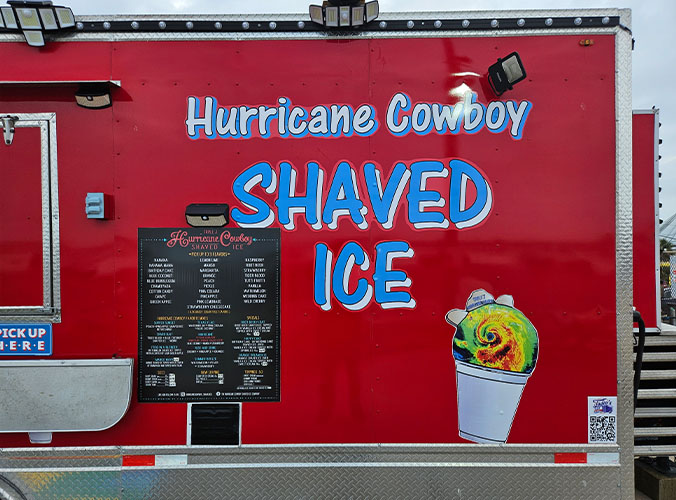 Hurricane Cowboy
Seawall
Step into the Magic Carpet Cool Zone, grab a shaved ice, and relax from a hard-fought round of golf at Magic Carpet Golf or your home run derby at The Batting Cages. They have so many flavors to cool you off that everyone will find something delicious. They have ice cream, sodas, and assorted Gatorade flavors as well.
Ask About Sugar Free Flavors
HURRICANE COWBOY FAVORITE MIXES
SURFER SUNSET
PEACH+PINEAPPLE SHAVED ICE
REFRESHING
MANGO MARY
MANGO SHAVED ICE TOPPED WITH A CENTER OF CHAMOYADA AND TOPPED WITH TAJIN
RISE AND SHINE
CHERRY+PINEAPPLE+ORANGE
TEXAS FLAG
WATERMELON+PINA COLADA+BLUE COCONUT
SHARK BAIT
TIGER BLOOD+BLUE COCONUT SHAVED ICE
WOW!
SIMMER BREEZE
WATERMELON+PEACH+STRAWBERRY
FROG IN A BLENDER
WATERMELON SHAVED ICE TOPPED WITH A CENTER OF SOUR GREEN APPLE
HURRICANE
TRY OUR SIGNATURE HURRICANE COWBOY SAHVED ICE!!!
BLUE COCONUT+MANGO+STRAWBERRY
ROOT BEER FLOAT
ROOT BEER SHAVED ICE TOPPED WITH VANILLA ICE CREAM AND TOPPED WITH SWEET CREAM
16oz | 6.50
HAPPY CAKE
BIRTHDAY CAKE OR WEDDING CAKE SHAVED ICE OVER VANILLA ICE CREAM TOPPED WITH SPRINKLES
16oz | 6.50
ORANGE DREAMSICLE
ORANGE SHAVED ICE OVER VANILLA ICE CREAM TOPPED WITH SWEET CREAM
16oz | 6.50
BABY SHARK (Small)
12oz | 4.50
MOMMY SHARK (Medium)
16oz | 4.95
DADDY SHARK (Large)
20oz | 5.50
SCOOP OF ICE CREAM
6oz | 3.95
SWEET CREAM
(condensed milk)
9030 Seawall Blvd,
Galveston, TX 77554