Explore the Best Galveston Hotels in 2023 | Top Hotels in Galveston, TX
Galveston, a breathtaking city on the Gulf Coast of Texas with an exciting past, offers abundant opportunities when choosing where to stay. Every kind of traveler – whether searching for luxury or something more budget-friendly– will find what they're looking for among Galveston's hotels. This guide provides detailed information about some fantastic hotel options from different parts around the island that can tailor to anyone's requirements and pocket size.
With its stunning beaches, rich history and enthralling downtown scene – families couples & singles alike are guaranteed an unforgettable experience in this spectacular corner if Texas! Continue reading below as we delve deeper into discovering which accommodation fits best during your time in enchanting Galveston!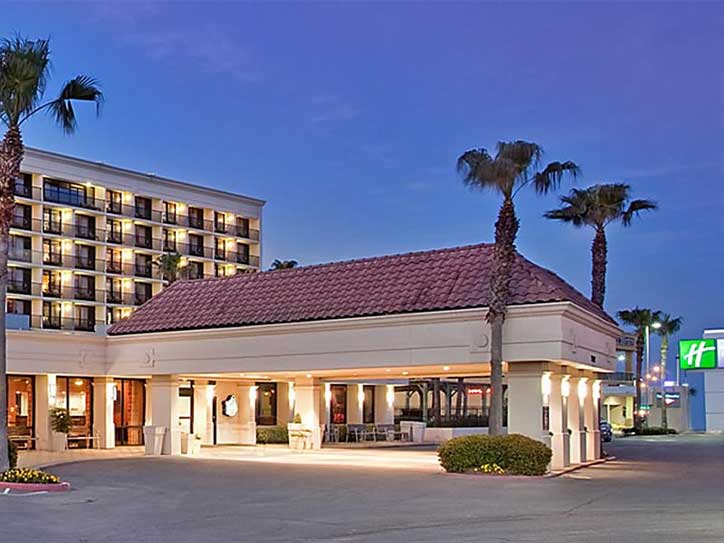 When it comes to planning your Galveston vacation, the Seawall is an ideal spot to find a variety of hotel options that cater for different preferences and budgets. The hotels here offer gorgeous views over the ocean as well as easy access to all attractions on this island. In order to assist you in finding suitable accommodation for your trip, we'll explore three types of these premier seaside resorts – luxury, mid-range and budget hotels.
Galveston's Seawall has something accommodating everyone with its selection of lodgings ranging from high-end choices through middle tier prices up until cost effective selections so no one misses out! Each option provides guests with great value while they can take pleasure in mesmerizing sights along with being close by various tourist draws on this vibrant island city.
In the heart of downtown Galveston, two exceptional hotels beckon travelers with the promise of an unforgettable stay. The Harbor House Hotel, situated along the historic waterfront, welcomes guests with coastal charm and impeccable service. With well-appointed rooms and breathtaking harbor views, it provides the perfect vantage point for exploring the city's renowned attractions, including The Strand Historic District and Pier 21. 
Meanwhile, The Tremont, housed in a beautifully restored historic building, offers a unique blend of old-world elegance and modern comforts. Its proximity to downtown's bustling shops, restaurants, and entertainment options, along with its commitment to preserving the building's rich history, creates a truly immersive experience. Guests at both hotels consistently praise their attentive staff and dedication to providing a memorable visit, ensuring that a stay at either The Harbor House Hotel or The Tremont in Galveston will leave a lasting impression.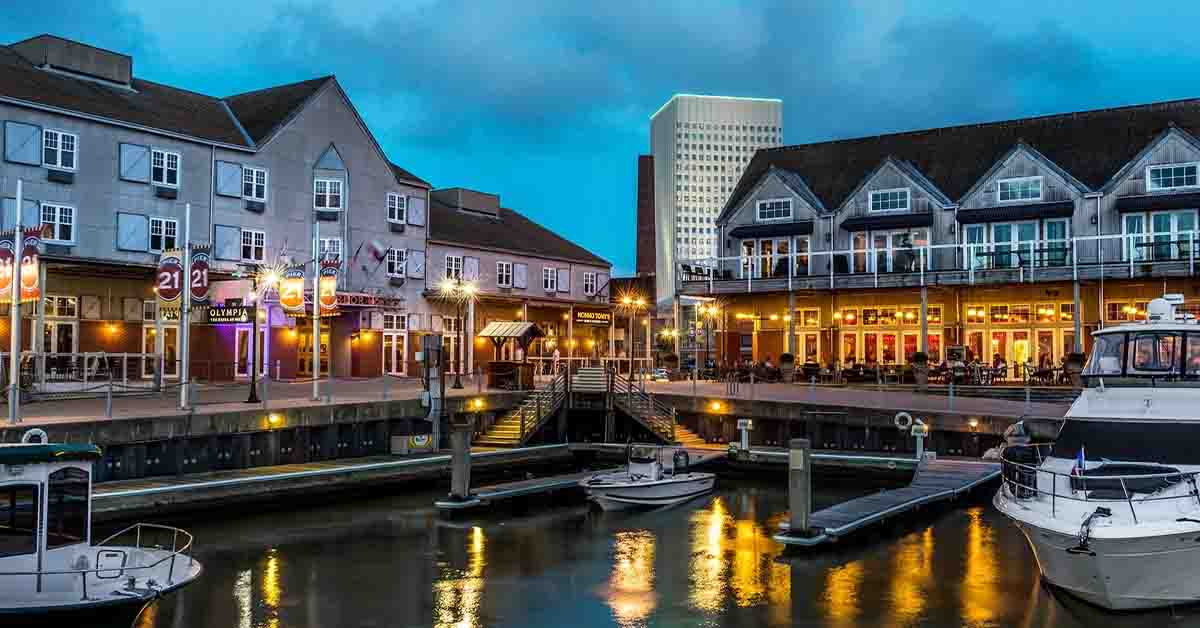 Galveston has an impressive selection of luxurious hotels located right along the Seawall. The San Luis Resort & Villas, Hotel Galvez and Spa provide exceptional services as well as mesmerizing scenery from every corner. Visitors seeking for the best experience in town are welcome to indulge into amenities such as pools and spas while having access to exclusive onsite restaurants or bars.
The ultimate choice for beach fans is certainly The Galvez which offers guests amazing views over ocean accompanied by world-class service alongside modern facilities that guarantee a most satisfying stay. All those luxury Seawall hotels will create one truly opulent escape exclusively crafted for travelers who want nothing but the highest standard that Galveston can give them!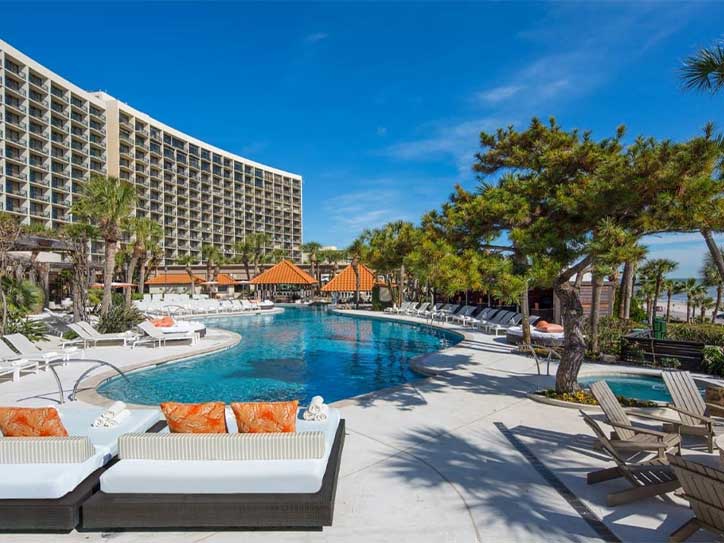 If you're looking for pet-friendly hotels in Galveston, look no further. The island offers a variety of accommodation options that cater to both pets and their owners' needs – such as the Tremont House, Towneplace Suites, and the Grand Galvez. Each hotel has designated spaces specifically designed with your four legged friends in mind along with rooms that welcome animals too!
 These best pet friendly hotels also provide concierge services so visitors can explore all the fun attractions suitable for both them and their pup while they stay on this gorgeous vacation destination. Make sure to do some research beforehand. There is definitely an option perfect suited towards you and your furry companion's comfort levels at one of the many terrific Pet Friendly Hotels located throughout Gaveston!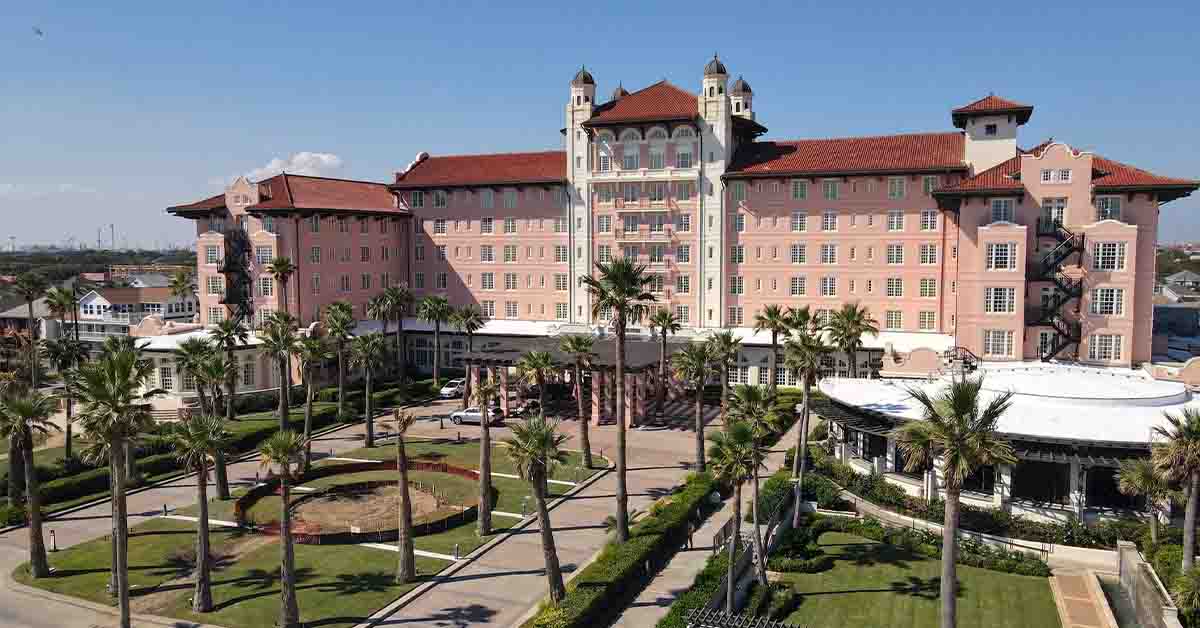 When looking for a hotel in Galveston that caters to cruise passengers, Gaido's Seaside Inn provides free parking for the duration of your cruise when you stay the night before. Whether it's before or after setting sail around Galveston Bay make sure you book one of these premier cruiseline-friendly establishments for a stress free stay – because nothing is better than starting off (or ending) vacation right!
By opting to stay at such a hotel before or after your cruise vacation it helps save funds by not having to pay separately for near terminal car park spaces. Plus reduces stress caused from hunting down somewhere suitable on the day itself! There's even more benefits like giving guests smooth sailing experience from go – resulting in enjoyable start their time away gets off too! All-in-all researching which place offers free parking may be something worth while doing ahead of going on your dream voyage.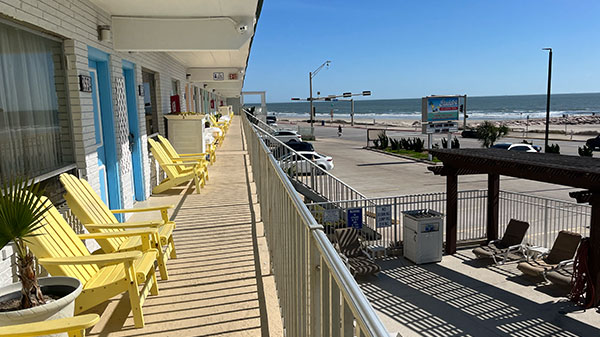 For the ideal family vacation, you can't go wrong with one of Galveston's resorts or hotels. Moody Gardens features a wealth of amenities and activities that ensure an enjoyable stay for all ages.
Moody Gardens is especially known for its outstanding hospitality – giving visitors access to some truly unforgettable experiences they won't soon forget! For those looking for different yet fun accommodations in Galveston Island, look no further. 
Moody Gardens Hotel, rated 5 stars on Travelocity, is one of the most popular family resorts in Galveston. With its array of attractions such as Schlitterbahn Waterpark and a golf course along with comfortable lodging makes it an ideal spot for families to enjoy their stay. There are also various dining facilities which cater to all ages so that even pickiest eaters find something delicious at Moody Gardens Hotel.
For anyone seeking entertainment and comfort during their vacation visit in Galveston Island, Moody Garden Hotels stands out from other hotels providing endless choices such as a water park spa services , golf courses among many others. This hotel guarantees visitors have countless entertaining options and activities while enjoying pleasant accommodations suitable for everyone's needs.
The Doubletree Hotel in Galveston is a great option for families seeking an enjoyable and comfortable stay on the island, boasting numerous amenities including spacious rooms, beach access, pool bar with views of the Gulf of Mexico as well as dining options. Those looking to conduct business while staying here will find a convenient business center along with meeting/event spaces available at this hotel near Galveston's attractions. Families can also take advantage of their fitness center ensuring that even when they are away from home there is plenty for them to do together during their visit. The prime location on the Gulf Coast provides easy accessibility and family-friendly activities like swimming or relaxing walks down one private beach exclusive only to guests at this Galveston beach hotel . Whether it be work related meetings or simply leisure time spent exploring all what beloved city has to offer , The Doubletree Hotel promises memorable experiences where ever your holiday may lead you!
The Tremont Hotel is a fantastic choice for those visiting Galveston who are looking to explore the city's culture and history. This classic hotel boasts an array of features such as elegant rooms, on-site dining options, a rooftop bar with views of downtown, fitness center facilities alongside an outdoor pool and meeting/event spaces, all conveniently located in the heart of downtown. Guests will also be treated to complimentary Wi-Fi access along with free breakfast every day plus concierge services which guarantee an unforgettable stay experience at The Tremont Hotel! Situated near Strand Historic District it's easy for visitors take advantage of its rich past while enjoying the modern amenities available right there within their grasp at this prime destination spot in Galveston.
The Harbor House Hotel in downtown Galveston is a hugely popular hotel offering fantastic views of the Gulf. With modern guest rooms and complimentary Wi-Fi included there are plenty of amenities for visitors to enjoy, as well as 24 hour front desk service with concierge available. A complimentary continental breakfast helps give guests that extra bit of convenience whilst not forgetting pet owners! This highly rated spot just minutes from Strand Historic District provides all you need when searching for quality accommodation on the island. Not only does it have excellent features but its stunning location means experiencing true beauty along your stay in Galveston too!
Galveston's Historic Hotels
For travelers looking for a one-of-a-kind combination of charm and modern amenities, Galveston's historic hotels provide an unforgettable experience. 
Featuring places such as the Tremont Hotel – this property boasts both vintage appeal with all the comforts of today's accommodation. With excellent service levels plus a convenient location – make your stay on this island truly special when you choose to stay at any one of its celebrated hostelries!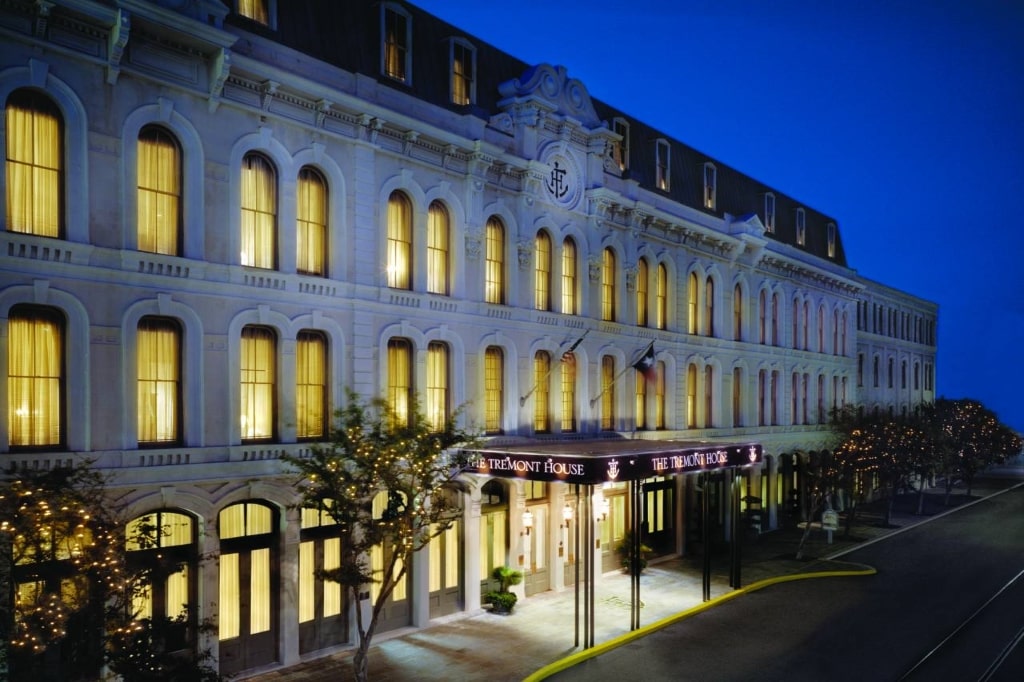 What are some of the best luxury hotels in Galveston?
For those looking for a lavish getaway in Galveston, The Tremont House, San Luis Resort & Villas (also part of the resort), Moody Gardens Hotel and Beachfront Palms Hotel offer everything you could want. Guests can relax at one of these luxurious hotels to experience all that the beautiful coastal city has to offer.
Are there any pet-friendly hotels in Galveston?
For pet-lovers, there are many suitable lodgings in Galveston to choose from. The Wingate by Wyndham Galveston East Beach and Harbor House Hotel both offer accommodation that is amenable for pets. For a luxurious stay the San Luis Resort is a great option too with all its amenities.
What are some family-friendly resort options in Galveston?
Visiting Galveston with your family? The Moody Gardens Hotel and the Doubletree Hotel are excellent choices, offering great facilities along with plentiful activities. Both resorts boast swimming pools and fun-filled water slides for those looking to cool off in the Texas heat. Mini golf courses provide entertainment options while arcades supply plenty of games for all ages. If you need a bite or drink during your stay, there are numerous restaurants and bars available right onsite plus shops filled with unique merchandise to explore!
Which hotels in Galveston offer free parking for cruise passengers?
Moody Gardens Hotel, Spa and Convention Center, the San Luis Resort with its Spa & Conference Center as well as Harbor House Hotel & Marina and Hilton Galveston Island Resort all provide free parking for visitors to Galveston. The Moody Gardens Hotels boasts a spa alongside their convention center while others such as the San Luis feature both conference facilities along with spas in order to cater towards travelers on this island city.
What are some historic hotels in Galveston?
The historic hotels of Galveston include the Tremont Hotel, Harbor House Hotel and Doubletree Hotel, offering travelers a taste of its iconic past.
Looking for Things to do in Galveston ?
Feel the soft sands between your toes, bask in the warm sun, and let the gentle waves create a soothing melody.
Explore Galveston culture by embarking on an exciting trip that will leave you with lasting memories.