Sunny Beach Neighborhood on Galveston Island Texas
Sunny Beach Neighborhood Amenities
Galveston Beaches and Attractions Nearby
Galveston Restaurants and Bars Nearby
Sunny Beach in Galveston, TX boasts generous beach accesses and breathtaking vistas. The wide, glistening beaches are bathed in Galveston's abundant sunshine. Ideal homes for families or romantic getaways await in this coastal paradise with a convenient location near Galveston Attractions. Sunny Beach's central location means you're a short drive away from seafood restaurants, water adventures, leisure activities, and more. The beach beckons! Book your stay in a Sunny Beach home for an unforgettable Galveston getaway.
Sunny Beach is a laid-back beach-front community in Galveston, Texas, featuring predominantly pre-1997 homes, with recent construction adding to its charm. The neighborhood consists entirely of single-family residences, and it maintains a relaxed atmosphere. A voluntary neighborhood association collects minimal dues, and there are no maintenance fees, enhancing its appeal.
Types of Houses in Sunny Beach Neighborhood
Sunny Beach is a charming beach-front subdivision situated on the Gulf side of FM 3005 at 8 Mile Road, approximately a mile west of the Seawall. It's West Galveston's first beachfront subdivision and the closest single-family beach house development to 61st Street. Each Sunny Beach home is fully equipped with a kitchen and cozy living spaces. The kitchen is perfect for packing beach coolers or preparing home-cooked meals. Dine alfresco on your private patio or deck for a true coastal experience. With the beach steps from your doorstep, you'll spend your days sinking toes in the sand, sunbathing, building sandcastles, and swimming in the Gulf of Mexico. Sunny Beach's central location means you're a short drive away from seafood restaurants, water adventures, leisure activities, and more.
Looking for places to stay in Sunny Beach Neighborhood?
Sunny Beach Neighborhood Real Estate
Real estate in Sunny Beach is generally more affordable than many other beach houses in Galveston, with prices typically ranging from the $200,000s to the $600,000s.
Sunny Beach in Galveston, TX, welcomes you to its tranquil shores, where spacious beaches, comfortable homes, and a relaxed atmosphere await. Whether you seek a family retreat or a romantic getaway, Sunny Beach offers an affordable slice of coastal paradise.
Sunny Beach Galveston offers approximately 45 houses, ranging from 700 to 2,400 square feet, with an average of 1,100 square feet. Construction dates vary, with about half of the homes built before 1997 and ongoing construction in recent years. Streets are unpaved, and plans for future city sewer service installation are in place. The neighborhood's easygoing ambiance is upheld by a voluntary neighborhood association that imposes minimal dues and no maintenance fees. Vacation rentals are permitted in compliance with local regulations, making it an attractive option for investors and vacationers.
Sunny Beach Neighborhood Area And What To Do
Sunny Beach Neighborhood in Galveston, Texas, offers a tranquil and picturesque setting for those seeking a relaxing coastal getaway. While the neighborhood itself is known for its peaceful ambiance and private beach access, there are plenty of activities and attractions to enjoy in and around the Sunny Beach Neighborhood. Here are some of the things you can do:
Beach Activities: With its easy beach access to Sunny Beach, Sunny Beach Neighborhood is the perfect place for sunbathing, swimming, beachcombing, and building sandcastles. You can also try your hand at beach volleyball or simply relax with a good book.

Fishing: The Gulf of Mexico waters near Galveston Island are teeming with fish, making it a popular destination for anglers. You can fish from the shore, charter a boat for deep-sea fishing, or cast a line from one of the nearby piers.

Water Sports: Water sports enthusiasts will find plenty of options, including kayaking, paddleboarding, and windsurfing. Many local businesses offer equipment rentals and lessons for beginners.

Galveston Island State Park: Just a short drive away, Galveston Island State Park offers hiking trails, bird watching, and opportunities for wildlife spotting. It's a great place for nature enthusiasts to explore the island's natural beauty.

Moody Gardens: Located a few miles from the Sunny Beach Neighborhood, Moody Gardens is a popular family-friendly attraction. It features a rainforest pyramid, an aquarium, a paddlewheel boat, and seasonal events. It's a great place to learn and have fun at the same time.

Schlitterbahn Waterpark: If you're visiting during the warmer months, Schlitterbahn Waterpark is a thrilling destination with water slides, lazy rivers, and wave pools. It's perfect for cooling off and having a blast with family and friends.

Historic Sites: Galveston Island has a rich history, and you can explore it by visiting historic sites like The Bryan Museum, the 1892 Bishop's Palace, and the Galveston Railroad Museum. Each offers a unique glimpse into the island's past.

Shopping and Dining: Head to Galveston's historic downtown district, The Strand, for boutique shopping, art galleries, and a wide variety of dining options. It's a great place to explore and soak in the island's vibrant culture.

Boating and Cruises: Galveston is a hub for boating and cruise ship departures. Consider taking a harbor tour or booking a dinner cruise to experience the island from a different perspective.

Nightlife: While the Sunny Beach Neighborhood itself is quiet and serene, you can find nightlife entertainment in Galveston's downtown area. Enjoy live music, bars, and clubs offering a range of nightlife experiences.

Festivals and Events: Check the local event calendar for festivals and events that may be taking place during your visit. Galveston hosts various festivals throughout the year, celebrating art, music, food, and more.

Relaxation: Ultimately, one of the best things to do in the Sunny Beach Neighborhood is to relax and rejuvenate. Enjoy the calming sound of the waves, take long walks on the beach, and savor the peaceful atmosphere that this coastal paradise offers.
Whether you're seeking adventure, cultural experiences, or simply a tranquil escape, Sunny Beach Neighborhood and its surroundings provide a diverse range of activities to suit your interests and make your visit to Galveston Island a memorable one.
Featured Sunny Beach Rentals
Sunny Beach
Featured Beachfront Rentals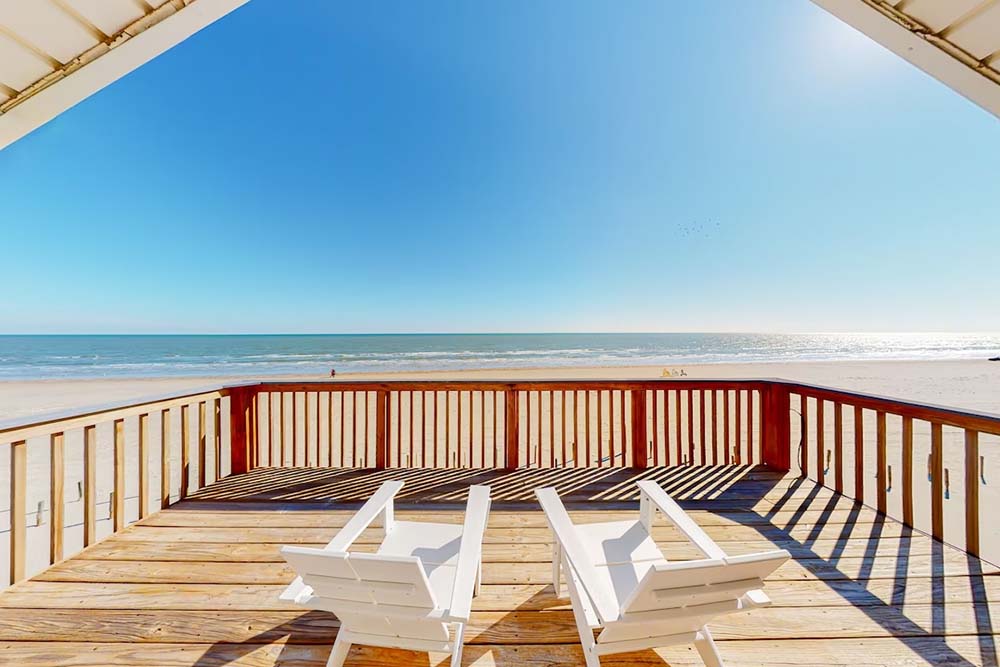 This exquisite beachfront retreat is an ideal destination for your upcoming adventure on Galveston Island. Boasting an open and inviting layout, captivating aesthetics, and a fully equipped kitchen brimming with an array of amenities, this is the perfect setting for gathering with friends and family who may be joining you on this journey. Nestled right along the pristine shores of the Gulf of Mexico, you won't need to travel far to experience the beach's serene beauty—it's practically at your doorstep. Begin your days with tranquil mornings on the expansive balcony or the sheltered deck, caressed by the gentle ocean breeze. And after a sun-soaked day, returning indoors for a delightful movie night is a wonderful way to cap off your idyllic days here in Galveston!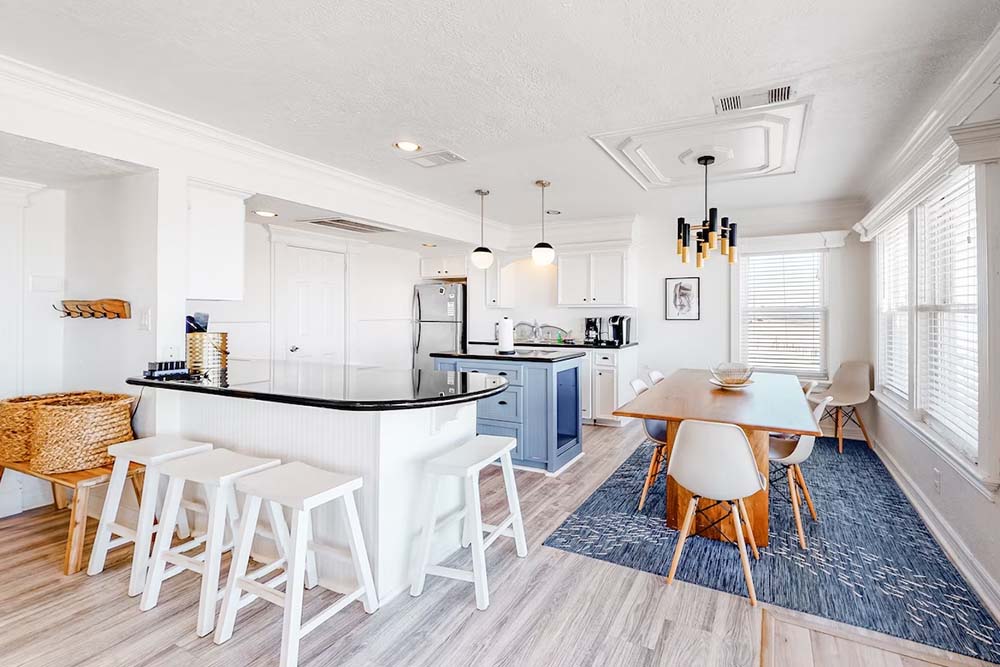 But this home isn't just a private sanctuary; it's also situated in a breathtaking locale brimming with nearby attractions and activities to explore. Embark on an adventure to discover the local shops and grocery stores conveniently located nearby, allowing you to stock up on essentials for your stay with ease. If you're in the mood for shopping, dining, and entertainment, the Historic Strand is just a short eight-mile journey away. For family-friendly fun, Schlitterbahn Waterpark and Moody Gardens are right around the corner. And, of course, don't miss the opportunity to experience unlimited amusement on the deck of Pleasure Pier! While you may never want to leave the serenity of your private beach, make sure to carve out time to witness the iconic Galveston seawall during your stay—it's an absolute must-see.
Sunny Beach
Featured Pet Friendly Rentals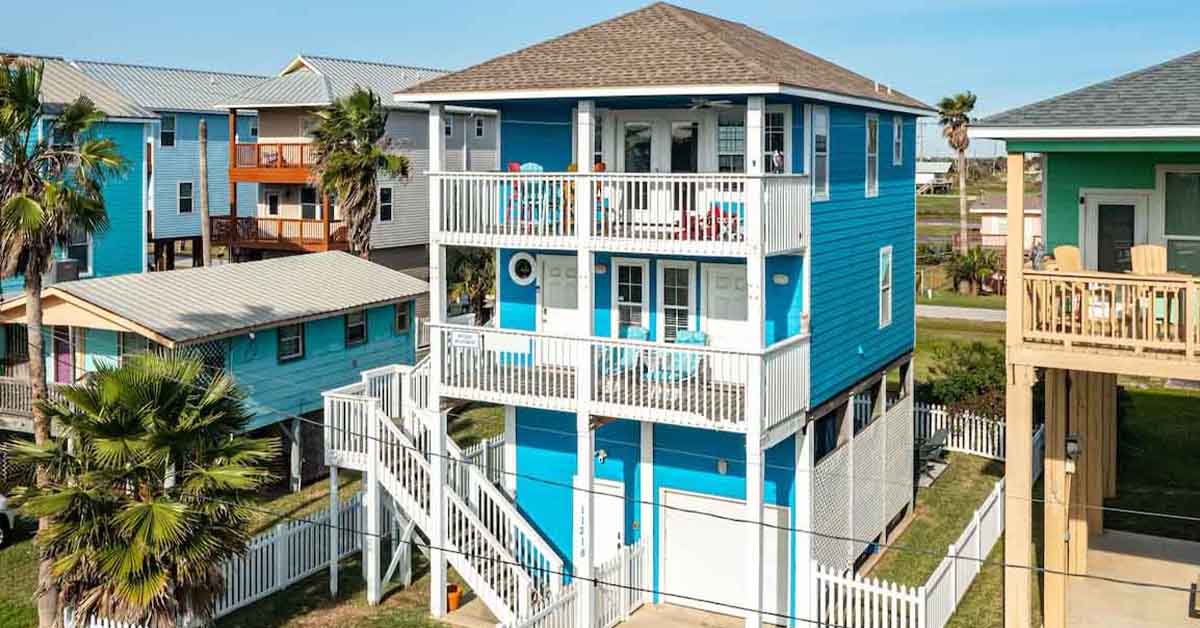 Escape to Beach Wood for your next unforgettable beachfront getaway in Galveston! This charming 5th-row beach house offers a wealth of enticing features, including its dog-friendly status complete with a fenced yard and a rejuvenating hot tub nestled conveniently near the patio tiki bar.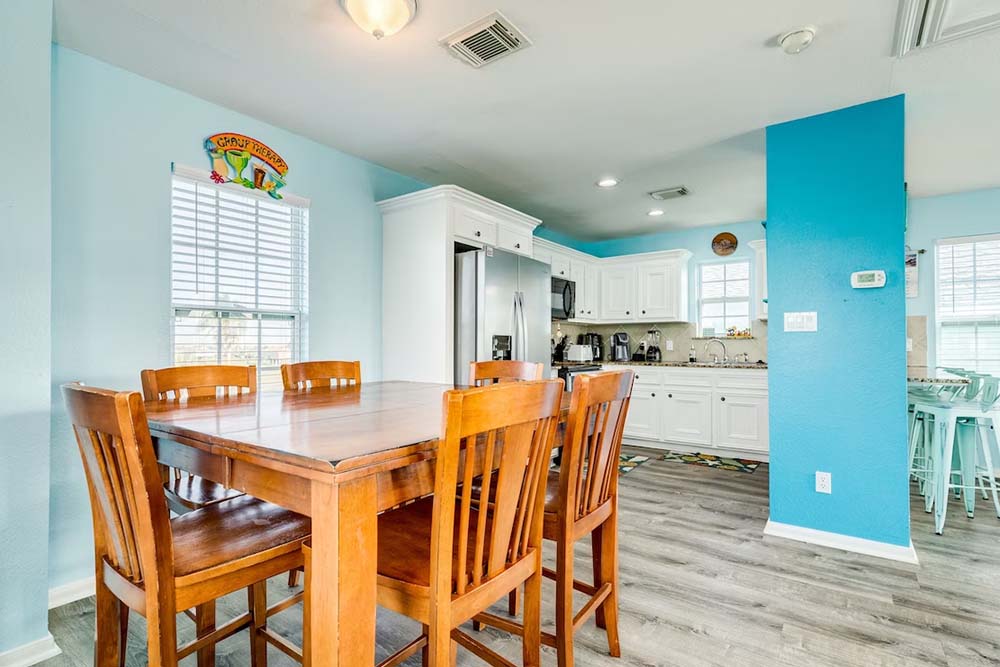 From the moment you arrive, the cheerful vibes of this residence will transport you into a beach-inspired haven. Its vibrant blue exterior and pristine white trim set the stage for your beach retreat. You'll have ample space to park two cars in tandem within the private driveway, allowing your kids and furry friends to explore the secure yard while you get settled. Speaking of settling in, the reverse floor plan strategically places the bedrooms on the main level, streamlining the process of unloading suitcases. The primary queen bedroom offers direct deck access, creating the perfect spot for sipping your morning coffee while basking in the sea breeze. A second queen bedroom and a bunk room are excellent choices for families traveling together.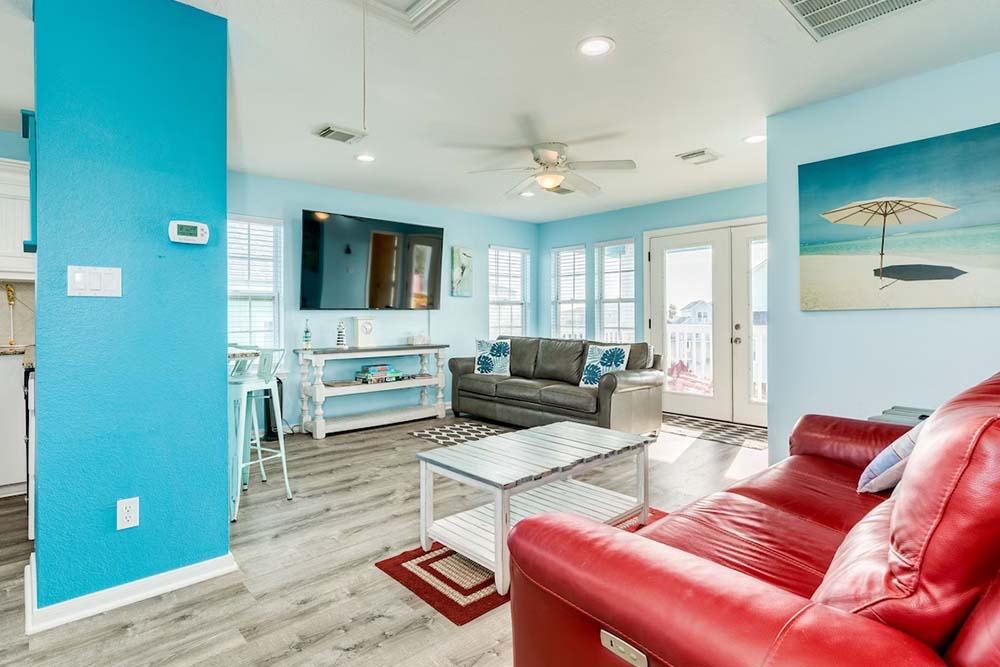 Ascending to the upper level, you'll discover a bright and airy living room adorned with two cozy couches, a generously sized TV ideal for movie nights or indulging in your favorite series, and a quaint two-seater table for lively game nights. The open floor plan ensures that the family chef won't miss any of the action while preparing meals in the fully-equipped kitchen. Its contemporary white cabinetry, stainless steel appliances, and granite countertops provide an abundance of space for preparing budget-friendly meals or afternoon snacks. The counter-height table easily accommodates six, and there's additional seating for four at the breakfast bar.