Spanish Grant Beach Neighborhood
Spanish Grant Beach Neighborhood on Galveston Island Texas
featured rentals in Spanish Grant Beach
Spanish Grant Beach - Beachfront Community
Spanish Grant Beach Neighborhood Amenities
Galveston Beaches and Attractions Nearby
Galveston Restaurants and Bars Nearby
Spanish Grant Beach - A Beachfront Haven on Galveston Island, Texas
Tucked in the heart of Galveston Island, Texas, Spanish Grant offers a unique island lifestyle that's hard to beat. Perhaps its most enticing perk is its very location—on the beach! Residents revel in the charm of island living, where the serene atmosphere and coastal beauty create an idyllic backdrop for daily life. Situated on Galveston's West End, Spanish Grant boasts a prime location. Properties here grace both sides of FM 3005, offering breathtaking views of Galveston Bay and the Gulf of Mexico Beachfront, especially the many homes on the beach. The neighborhood is conveniently positioned a mere 3 miles east of Galveston Island State Park, ensuring easy access to the park's recreational offerings.
Spanish Grant exudes a cozy, charming ambiance that's been cherished for decades, with roots tracing back well before the '90s. Comprising three rows of beach homes, the community's essence revolves around embracing the island lifestyle and shedding the worries of everyday life. Nature plays a pivotal role in the decision to call this community home, with a nearby state park offering a wealth of walking and kayaking trails for nature enthusiasts to enjoy. In Spanish Grant, the call of island living is irresistible, offering a tranquil retreat where residents can savor the simple joys of coastal life and connect with the natural beauty that surrounds them.
Types of Houses in Spanish Grant Beach
Located just west of the beach section in Spanish Grant, this collection of Galveston beach houses offers diverse options for prospective buyers. These homes tend to be more compact, with sizes ranging from under 800 square feet to approximately 3,700 square feet, and an average size of around 1,400 square feet. Many of these homes have a rich history, as they were constructed earlier than most other bay and beach houses in Galveston. A significant portion of the houses within Spanish Grant's vicinity were built before 1989, adding to the neighborhood's character and charm. Prospective buyers will find that bay and beach houses for sale in Galveston's Spanish Grant development span a wide range of prices, accommodating various budgets. Property values typically range from the $200,000s to the $1 million mark, providing a diverse selection of real estate options. On the bay side of Spanish Grant, a vibrant community thrives with full-time residents and second-homeowners. Unlike the beach side, where vacation rentals are common, the bay side prohibits vacation rentals, fostering a more permanent and closely-knit neighborhood atmosphere.
Spanish Grant Beach Real Estate
Spanish Grant neighborhood in Galveston, Texas, offers a unique blend of coastal charm, historical significance, and real estate diversity. As prospective homeowners consider this delightful community, they will find a range of housing options, each with its own story to tell.
Spanish Grant boasts an assortment of Galveston beach houses that lie directly west of its beach section. What distinguishes this neighborhood is the diversity of housing options available to residents. Here, you'll find an array of homes, each with its own character and appeal.
The homes in Spanish Grant vary not only in style but also in size. These houses tend to be more compact, ranging from smaller cottages of fewer than 800 square feet to larger residences with around 3,700 square feet of living space. The average size of homes in Spanish Grant hovers around 1,400 square feet. This range of sizes caters to different preferences and lifestyles, making it an attractive destination for a broad spectrum of homeowners.
What adds a layer of historical charm to Spanish Grant is the age of the homes. Many of the houses in this vicinity carry the legacy of an earlier era, with most constructed before 1989. These well-established homes have witnessed the passage of time on the island, contributing to the neighborhood's unique character and history. As you stroll through Spanish Grant, you'll find houses that have weathered the island's storms and witnessed its transformation over the decades.
When considering real estate in Spanish Grant, prospective buyers will appreciate the wide range of property values. This diversity in pricing ensures that there's something for every budget within the neighborhood. The price spectrum for bay and beach houses in Galveston's Spanish Grant development is extensive, spanning from the $200,000s to properties valued at around $1 million.
This range in property values is advantageous for those seeking to make Galveston Island their home, as it accommodates a variety of financial circumstances. Whether you're searching for a cozy beachside cottage or a more spacious bayfront home, Spanish Grant offers options that align with your budget while providing the opportunity to experience the unique island lifestyle.
Spanish Grant neighborhood in Galveston, Texas, offers a real estate landscape that combines historical significance with modern comfort. With homes that vary in size and age, residents can choose the property that best suits their preferences and needs. The range in property values further enhances the neighborhood's appeal, making it an attractive destination for those looking to invest in a piece of Galveston's coastal paradise. Whether you're captivated by the island's history or simply seeking a beachside retreat, Spanish Grant welcomes you with open arms and a wide array of real estate options to explore.
Spanish Grant Beach HOA Deed Restrictions and By-Laws
Spanish Grant Beach HOA Guidelines and Regulations
Spanish Grant Beach Area And What To Do
Spanish Grant Beach in Galveston, Texas, offers a tranquil and picturesque setting for those seeking a relaxing coastal getaway. While the neighborhood itself is known for its peaceful ambiance and private beach access, there are plenty of activities and attractions to enjoy in and around Spanish Grant Beach. Here are some of the things you can do:
Beach Activities: With its easy beach access, Spanish Grant Beach is the perfect place for sunbathing, swimming, beachcombing, and building sandcastles. You can also try your hand at beach volleyball or simply relax with a good book.

Fishing: The Gulf of Mexico waters near Galveston Island are teeming with fish, making it a popular destination for anglers. You can fish from the shore, charter a boat for deep-sea fishing, or cast a line from one of the nearby piers.

Water Sports: Water sports enthusiasts will find plenty of options, including kayaking, paddle boarding, and windsurfing. Many local businesses offer equipment rentals and lessons for beginners.

Galveston Island State Park: Just a short drive away, Galveston Island State Park offers hiking trails, bird watching, and opportunities for wildlife spotting. It's a great place for nature enthusiasts to explore the island's natural beauty.

Moody Gardens: Located a few miles from Spanish Grant Beach, Moody Gardens is a popular family-friendly attraction. It features a rainforest pyramid, an aquarium, a paddlewheel boat, and seasonal events. It's a great place to learn and have fun at the same time.

Schlitterbahn Waterpark: If you're visiting during the warmer months, Schlitterbahn Waterpark is a thrilling destination with water slides, lazy rivers, and wave pools. It's perfect for cooling off and having a blast with family and friends.

Historic Sites: Galveston Island has a rich history, and you can explore it by visiting historic sites like The Bryan Museum, the 1892 Bishop's Palace, and the Galveston Railroad Museum. Each offers a unique glimpse into the island's past.

Shopping and Dining: Head to Galveston's historic downtown district, The Strand, for boutique shopping, art galleries, and a wide variety of dining options. It's a great place to explore and soak in the island's vibrant culture.

Boating and Cruises: Galveston is a hub for boating and cruise ship departures. Consider taking a harbor tour or booking a dinner cruise to experience the island from a different perspective.

Nightlife: While Spanish Grant Beach itself is quiet and serene, you can find nightlife entertainment in Galveston's downtown area. Enjoy live music, bars, and clubs offering a range of nightlife experiences.

Festivals and Events: Check the local event calendar for festivals and events that may be taking place during your visit. Galveston hosts various festivals throughout the year, celebrating art, music, food, and more.

Relaxation: Ultimately, one of the best things to do in Spanish Grant Beach is to relax and rejuvenate. Enjoy the calming sound of the waves, take long walks on the beach, and savor the peaceful atmosphere that this coastal paradise offers.
Whether you're seeking adventure, cultural experiences, or simply a tranquil escape, Spanish Grant Beach and its surroundings provide a diverse range of activities to suit your interests and make your visit to Galveston Island a memorable one.
Featured Spanish Grant Beach Rentals
Spanish Grant
Featured Beachfront Rentals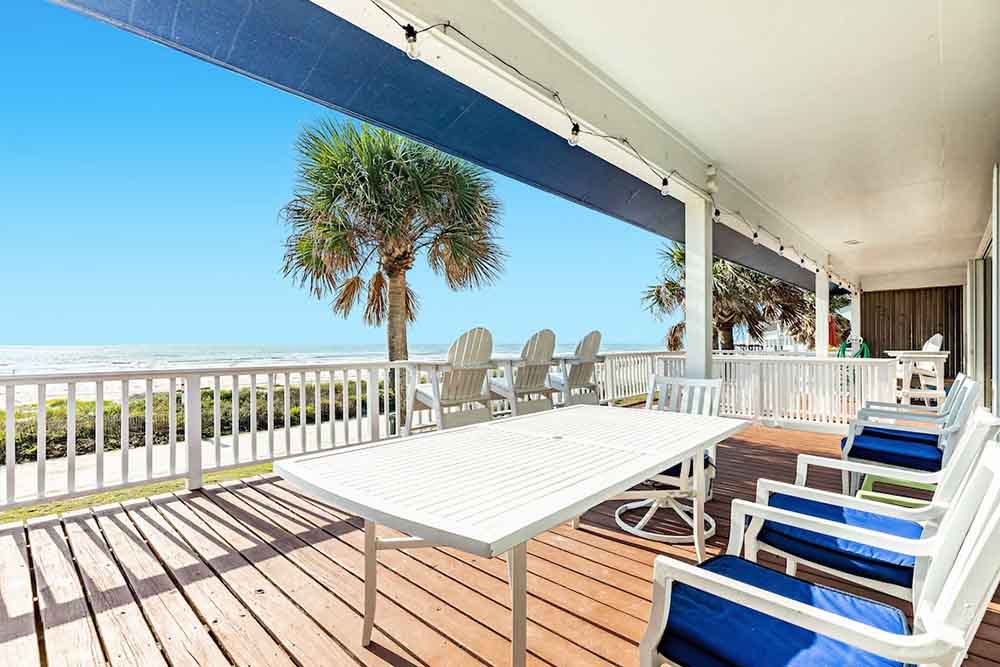 Escape to Beach Wood for your next unforgettable beachfront getaway in Galveston! This charming 5th-row beach house offers a wealth of enticing features, including its dog-friendly status complete with a fenced yard and a rejuvenating hot tub nestled conveniently near the patio tiki bar.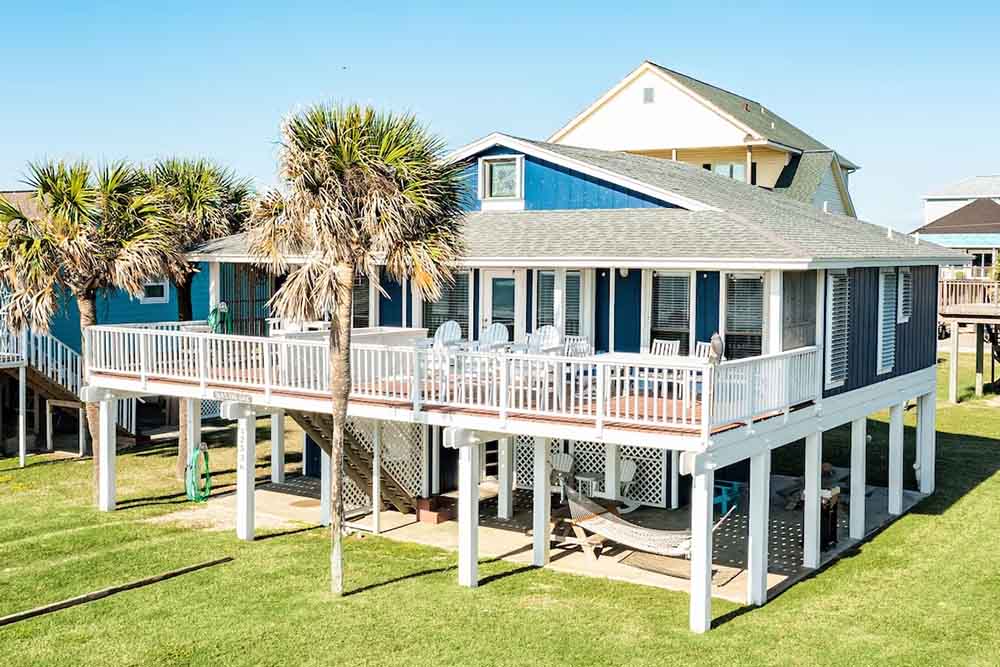 Situated just 10 miles from downtown Galveston, this Galveston beach rental ensures you'll have easy access to limitless shopping, dining, and entertainment options. And don't miss a visit to the Historic Pleasure Pier!
Step inside, and you'll find the interior of this home adorned in warm beachy tones and style, perfectly setting the mood for your beach vacation. Enjoy trendy updates, such as a barn door entrance to one of the bedrooms. Gather beneath the living area's vaulted ceiling for some relaxed TV time. The spacious, open kitchen boasts a large center island with bar seating, ideal for whipping up your favorite meals. Don't forget to savor moments in the cozy seating nook, perfect for brewing a delicious cup of coffee, or two. Additional perks include complimentary WiFi, central air-conditioning, and a laundry room complete with a private washer/dryer for added convenience. This Galveston beach rental truly offers the quintessential beachfront experience on Galveston Island!
Spanish Grant
Featured Ocean View Rentals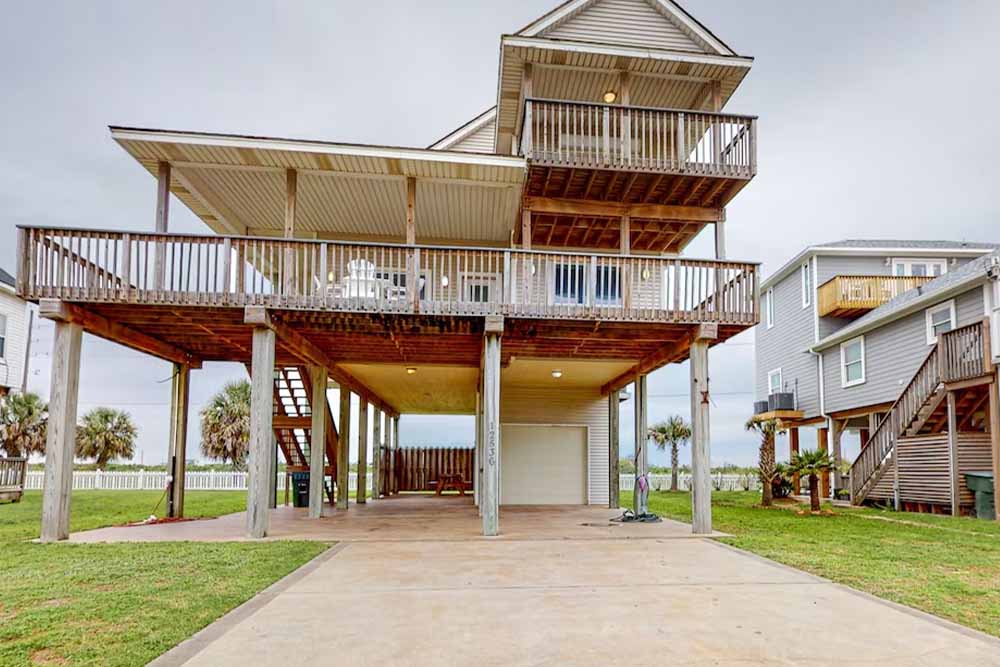 Discover this beautiful Galveston beach rental just a short stroll from the sand – the ultimate choice for your next Galveston Island getaway. Embrace sun-drenched days lounging on either of your covered balconies or embark on adventures to nearby attractions, including Galveston Island State Park, a mere four miles away, Moody Gardens, just six miles down the road, and downtown Galveston, approximately eight miles from your doorstep. And if you prefer to stay close, fear not – nestled within the Spanish Grant subdivision on the west end of the island, this Galveston beach rental offers direct beach access points.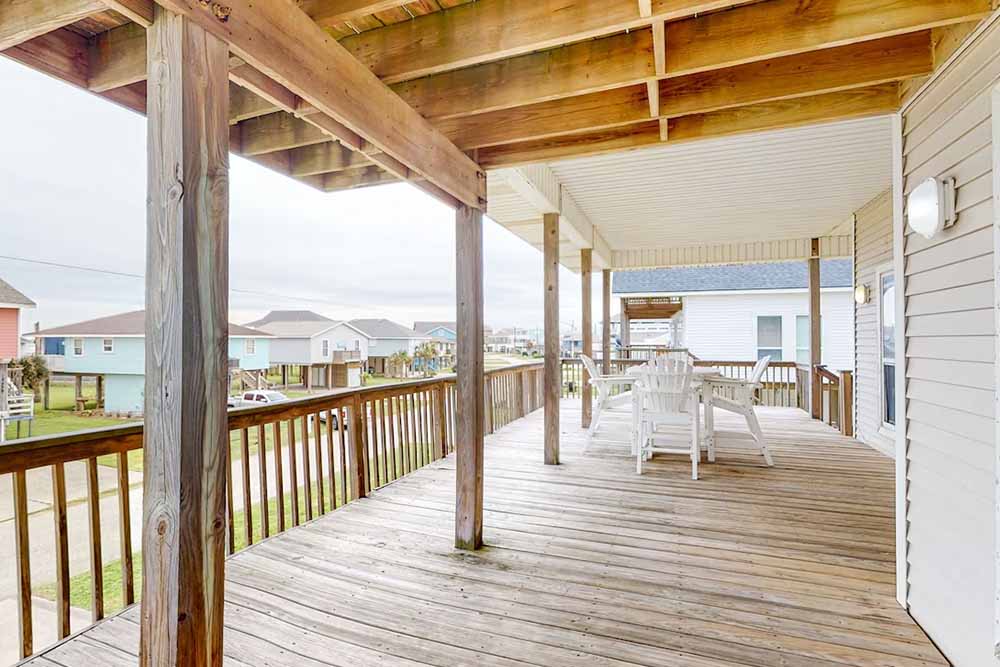 Step inside to an inviting space bathed in natural light, featuring soaring ceilings. Take a seat at the window-front dining table while the chef works culinary magic in the fully equipped kitchen. With the dishwasher on hand, tidying up becomes a breeze, allowing you to return to relaxation in no time.
After a sun-soaked day, retreat to the comforting embrace of central AC while the washer/dryer handles any laundry needs. Enjoy streaming the latest releases in the living room or stay connected with friends and family through the complimentary WiFi. Restful slumber awaits in any of the four tranquil bedrooms, ensuring you're well-rested for another day of Galveston Island adventures. This Galveston beach rental promises a dreamy island escape at your fingertips.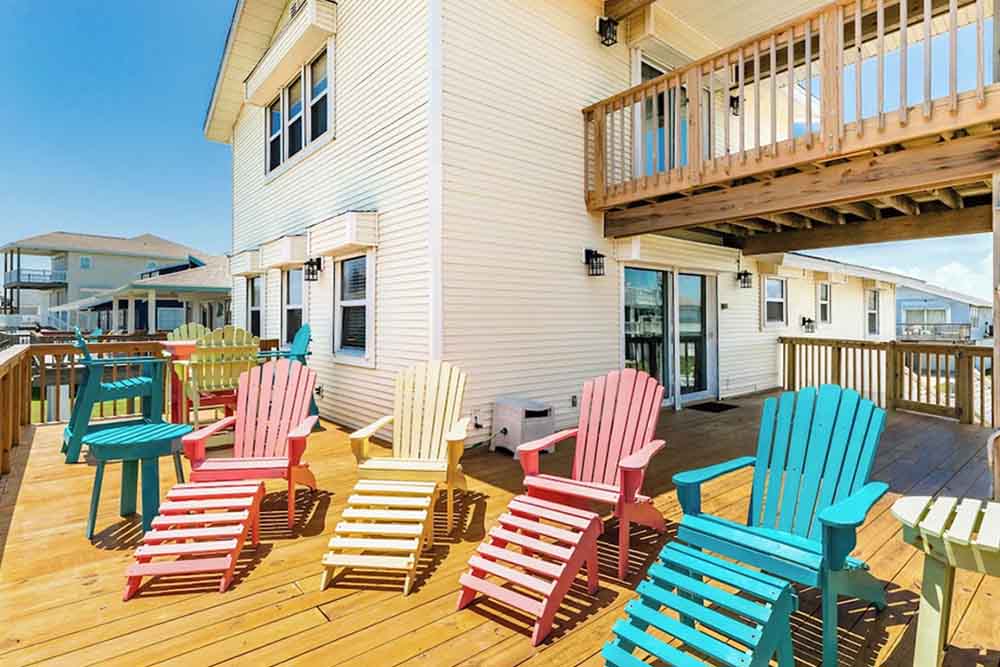 Your quest for the perfect Galveston beach rental ends here with this exquisite 2nd-row beachside retreat! Sea Senor (formerly Sunsational) boasts 4 spacious bedrooms, 2.5 baths, a freshly updated interior in 2023, and is just a short stroll away from the sandy shores and gentle surf. This vacation home promises an unforgettable and rejuvenating island getaway for you and up to 11 of your cherished companions.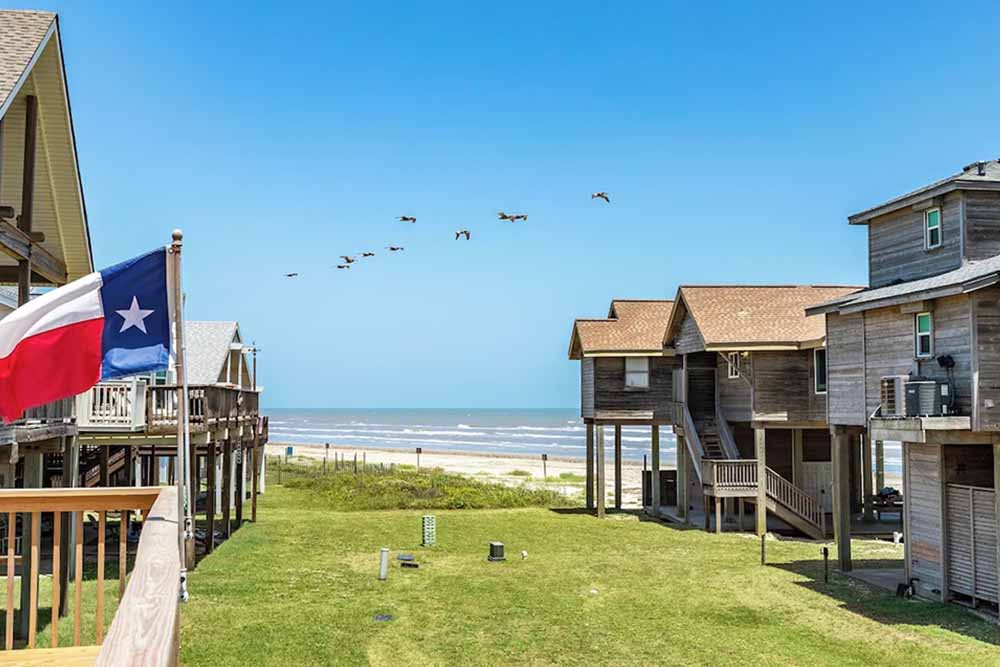 Arrive and park in the private driveway, then seize your beach bags and venture through the shaded patio, where you'll discover a delightful picnic table, swings, a hammock, a charcoal grill, and an enclosed outdoor shower. These amenities set the stage for endless outdoor enjoyment. Ascend the gated stairs to the main level, where you'll find a mid-way landing designed to simplify the process of transporting suitcases or assisting little ones with shorter legs. Furthermore, a gate awaits you when you reach the deck, ensuring both safety and peace of mind during your stay at this Galveston beach rental.