Carnival Miracle is a ship that transports you to a realm of wonder, both through its magnificent destinations and its onboard spaces inspired by elements of fantasy. Immerse yourself in an enchanting show at the Phantom Lounge, or perhaps, enjoy a refreshing drink at the Odyssey Bar. Lose yourself in the melodies at Sam's Piano Bar or dance the night away at Dr. Frankenstein's Lab. Satisfy your appetite at the elegant Bacchus Dining Room, relish the gourmet delights at Nick and Nora's Steakhouse, or opt for a more casual dining experience at Horatio's Restaurant, which derives its name and nautical ambiance from a C.S. Forester novel.
The Alchemy Bar is an artistic haven for crafting exceptional drinks, while the relaxed atmosphere of the RedFrog Pub exudes a Caribbean vibe. If you're seeking a fun-in-the-sun adventure, the ship has it all, whether it's sliding down the exhilarating Twister Waterslide or lounging for a sun-kissed glow. Carnival Miracle caters to both kids and adults, offering Club Ocean for the youngsters and the serene Serenity retreat for adults, ensuring that everyone has their own space to relax.
Carnival goes the extra mile by providing more spacious staterooms than many other cruise lines, and most of the rooms on Carnival Miracle grant you breathtaking ocean views.
Book your Carnival Miracle Cruise
Galveston serves as a popular cruise departure point in Texas, offering travelers a convenient gateway to various cruise destinations in the Caribbean and Mexico.
Carnival Miracle Overview
Carnival Miracle is a ship that might seem too extraordinary to be true, but it's a sight to behold that you shouldn't miss. When we say that Carnival Miracle whisks you away to another world, we mean it in every sense. The ship not only voyages to awe-inspiring destinations but also features exceptional onboard venues inspired by elements of fantasy. Escape from the ordinary as you watch a captivating performance at the Phantom Lounge or dance the night away at Dr. Frankenstein's Lab. For those who want to lose themselves in music, the enchanting melodies at Sam's Piano Bar await. If you're in the mood for a delectable meal, you'll find a range of culinary delights, from the laid-back Horatio's to the artful feasts at the Bacchus and Ariadne dining rooms. And don't forget the mouthwatering steaks at Nick & Nora's Steakhouse.
At the Alchemy Bar®, drinks are transformed into works of art, and the casual yet "Caribbean cool" ambiance at the RedFrog Pub™ is an experience in itself. The SkyBox™ Sports Bar combines the comfort of a luxury box with a front-row view of the action. Outdoors, the ship offers a host of thrilling activities, whether you're up for waterslides or simply sunbathing — Carnival WaterWorks™ has it all (in water, of course). Meanwhile, the Serenity Adult-Only Retreat™ provides a tranquil space for grown-up relaxation, whether you prefer the sun or the shade.
Regardless of your age, don't forget to end your day on a sweet note with a treat from Cherry On Top™, the onboard candy-and-more store.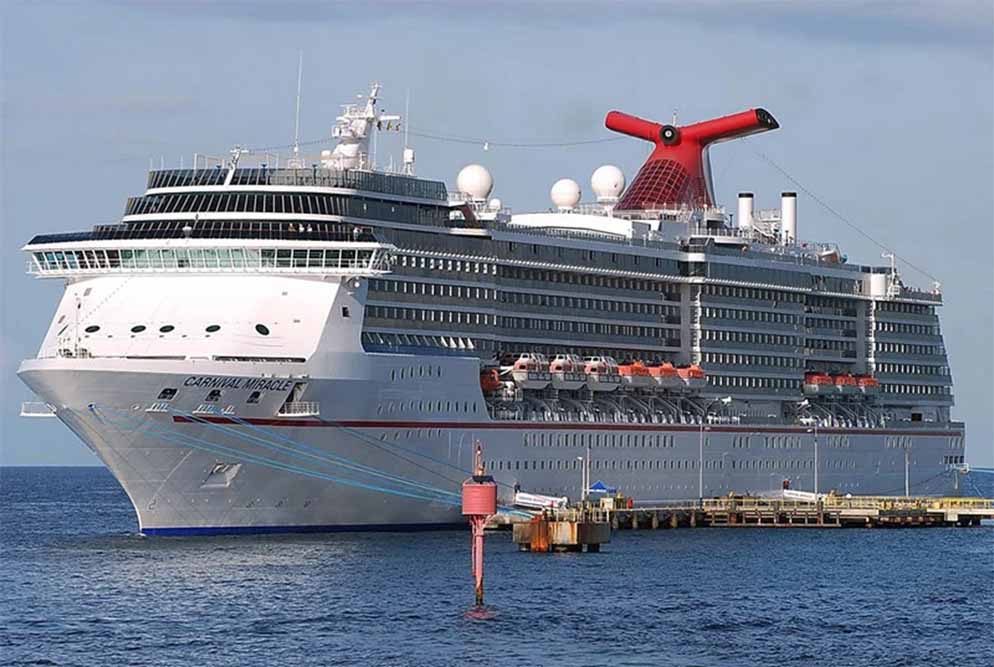 Carnival Payments & Refunds
To reserve your cabin and lock in the final price, you will be required to place a deposit on your cruise. After you have placed a deposit to secure your reservation, you will be asked to pay the remaining balance of your fare at the final payment due date.
Deposit and Final Payment
| | | |
| --- | --- | --- |
| Cruise Type | Deposit Amount | Final Payment Due Date |
| 3-night cruises | $100 per person ($200 for single occupancy)  | 76 days prior to sailing  |
| 4 to 5-night cruises | $150 per person ($300 for single occupancy)  | 76 days prior to sailing  |
| 6 to 9-night cruises | $250 per person ($500 for single occupancy)  | 91 days prior to sailing  |
| Alaska, Europe, Panama Canal, Transatlantic, Transpacific and cruises that are 10-nights and longer | $400 per person ($800 for single occupancy)  | 91 days prior to sailing    |
Non-Refundable Deposit at the time of booking: Early Saver and Super Saver
Non-Refundable Total Fare at the time of booking: Pack & Go
Note: Select promotions require full payment at the time of booking.
Carnival accepts American Express, Visa, MasterCard, and Discover Card for all cruise payments.
Cancellations and Refunds
Penalties may apply if you cancel or change your reservation. Penalties can be up to 100% of the amount paid, and deposits are often non-refundable. We recommend purchasing insurance to protect against covered unexpected events. Please check with your Vacations To Go cruise counselor for cancellation and refund policies for Carnival cruises.
Carnival Miracle Dining Options
Bacchus Dining Room (Main Dining Room)
Cuisine: Continental
Dress Code: Two formal nights; others resort attire. Shorts and swimwear not permitted.
Surcharge: No
Reservations Required: Yes
Hours
Breakfast: 7:30 am – 9:30 am on days in port / open seating brunch from 8:30 am – 1:00 pm on days at sea; on days at sea for cruises longer than 8 days brunch will alternate with breakfast and lunch
Lunch: noon – 1:30 pm
Dinner: Early – 6:00 pm, Late – 8:15 pm
Horatio's Restaurant
Cuisine: Buffet, Asian, Grill, Salads, Pasta, Chicken, Steak
Dress Code: Casual
Surcharge: No
Reservations Required: No
Hours
Breakfast: 7:00 am – 10:30 am
Lunch: noon – 2:30 pm
Dinner: 6:00 pm – 9:30 pm
Nick and Nora's Steakhouse
Cuisine: Seafood & Steaks
Dress Code: Formal
Surcharge: Yes, $48 per adult, $13 per child 11 and under
Reservations Required: Yes
Hours
Dinner Only : 6:00 pm – 9:30 pm
Chef's Table
Cuisine: Continental
Dress Code: Smart casual
Surcharge: Yes, $75 per person
Reservations Required: Yes
Hours
Dinner only: Ask onboard for specific times.
RedFrog Pub
Cuisine: Caribbean
Dress Code: Casual
Surcharge: No
Reservations Required: No
Hours
Ask on board for hours
Note: Open seating at dinner (Your Time Dining) is available on each sailing. Guests who choose Your Time Dining may dine anytime between 5:30 pm and 9:00 pm in the main dining room.
Carnival Miracle Onboard Activities
Carnival's Vacation Protection Plan
In life, you never really know what may happen. Carnival Vacation Protection can help protect your vacation payment against the unexpected from the time you leave until you return home. Here's how…
 
Trip Cancellation – In life, you never really know what may happen… but you can rely on the Vacation Protection trip cancellation. If you need to cancel for some of the most common reasons (severe weather, illness, etc.) you'll get 100% of the cost of your trip back, in cash. If you need to cancel for any reason not listed in the plan — any reason at all — you'll get 75% back in a Future Cruise Credit Certificate.  Provided by Carnvial Cruise Line.
Travel Insurance – Sail through your vacation with less to worry about.

Trip Interruption: Up to total trip cost reimbursement if you must start your vacation late or need to come home early due to illness, injury and more
Baggage: Up to $1,500 if your stuff is lost, stolen or damaged, and up to $500 reimbursement if you have to buy necessary items while your bags are delayed 24+ hours
Medical: Up to $10,000 if you get sick or injured on your vacation
Emergency Evacuation: Up to $30,000 for emergency medical evacuation and repatriation (services provided by LiveTravel)
24/7 Worldwide Travel Assistance – Need help while you travel? Assistance is there for you, 24 hours a day, 7 days a week… anywhere in the world. Provided by LiveTravel.
Travel Insurance is underwritten by Nationwide Mutual Insurance Company and Affiliated Companies, including Nationwide Life Insurance, Columbus, Ohio (NAIC #23787).
 
This is not a complete description of all benefits and limitations. For full terms and conditions of coverage, ask your Vacations To Go cruise counselor. Prices, terms, and conditions listed in this summary are subject to change without notice, and need to be reconfirmed with your Vacations To Go cruise counselor at the time of booking.

If you book a Carnival cruise, you can purchase insurance from Carnival or from the independent insurance provider, Generali Global Assistance (formerly CSA Travel Protection). Click here to see details of the Go Plan from Generali Global Assistance. 
Carnival Miracle Parking Information
The Official Port Of Galveston Parking - Galveston Park
Our Port of Galveston discount cruise parking allows cruise passengers to reserve a parking spot when sailing out of Galveston. Find where to park in Galveston for Cruises for the port of Galveston parking. Find Parking near Galveston Cruise for Carnival and other cruises. With the pre-paid parking program, the Port is offering discounted parking rates for spots in the Port of Galveston's official parking lots. Cruise passengers can secure a spot in advance through our online service and be sure to secure a worry free spot for parking near Galveston Cruise Port. This port parking can be used by Carnival Cruise parking. We value our customers and so if you Park by the Ports, it is safe cruise parking.
What you need to know before visiting Galveston
Operating out of Galveston Island, the Port of Galveston is at the heart of cruise life and sits in the West Bay at the beginning of the Houston Ship Channel. This port currently has 3 cruise terminals and serves, on average, over 1 million cruise passengers a year. Located on Harborside Drive in Galveston, the port is connected to the mainland via the San Luis Pass toll bridge and Interstate 45. The city's cruise industry has grown significantly over the years, making it a key player in the Gulf of Mexico cruise market.
Captivating destination that offers a blend of rich history, beautiful beaches, vibrant culture, and numerous activities for visitors
Uncover terminal insights and explore the diverse transportation choices for a hassle-free cruise departure. Get ready to set sail!
Are you planning a cruise adventure from Galveston but have a boatload of questions? You're in the right place! This FAQ page is your one-stop source for everything you need to know about cruises departing from Galveston.
Relax and Explore Galveston by visiting some of the most delicious seafood restaurants and steak houses in the area, or explore the iconic Moody Gardens and Pleasure Pier.