The Carnival Dream is nothing short of an innovative wonder and stands as one of the largest ships in the Fun Ship fleet. Its extensive dining and entertainment options are a testament to its grandeur. With a host of facilities tailored for children, including various clubs for different age groups, and family-friendly cabins designed for high occupancy, the Carnival Dream is a fantastic choice for families. Onboard, you'll discover two main dining rooms, a gourmet steakhouse, and a dedicated sushi spot. For those seeking a more relaxed dining experience, there's a pizzeria, a burger joint, and a smokehouse. As the kids enjoy their age-appropriate activities, adults can unwind in one of the many bars, indulge in pampering sessions at the Cloud 9 spa, or escape to the adults-only retreat known as Serenity. Plus, the Carnival Dream boasts an exhilarating waterslide at WaterWorks, ensuring the whole family can bask in the sun and fun. No matter your preferences, the culinary delights and activities aboard the Carnival Dream are sure to turn your dreams into reality.
Book your Carnival Dream Cruise
Galveston serves as a popular cruise departure point in Texas, offering travelers a convenient gateway to various cruise destinations in the Caribbean and Mexico.
When it comes to innovation, Carnival Dream leads the way. This ship was at the forefront of a recent surge of remarkably innovative and fun Carnival vessels. As the pioneer of the Dream class, Carnival Dream set the course for her successors—first Carnival Magic and then Carnival Breeze.
Let's return to the Carnival Dream itself: the ship offers a unique experience, featuring the RedFrog Rum Bar® for lively fun and the stylish BlueIguana Tequila Bar™. Your appetite is in for a treat, as Carnival Dream hosts two dual-level dining rooms, a gourmet steakhouse, and a dedicated sushi spot, Bonsai Sushi™. Moreover, you'll find an extensive selection of casual dining spots serving up delicious options like BlueIguana Cantina™, Pizzeria del Capitano, Guy's Burger Joint™, and Guy's Pig & Anchor Smokehouse™. (Yes, that's Guy as in Guy Fieri, guaranteeing mouthwatering dishes.)
Carnival Dream also boasts the nearly magical Alchemy Bar® and Ocean Plaza, a delightful combination of delectable treats and captivating entertainment. Entertainment opportunities are plentiful throughout the ship, and so is watery excitement, from the heart-pounding waterslides at Carnival WaterWorks™ to the serenely rejuvenating Thalassotherapy pool at the Cloud 9 Spa™.
Despite its dreamlike name, the Carnival Dream is a very real and extraordinary vessel. Can't believe it? Pinch yourself… and secure your dream cruise today.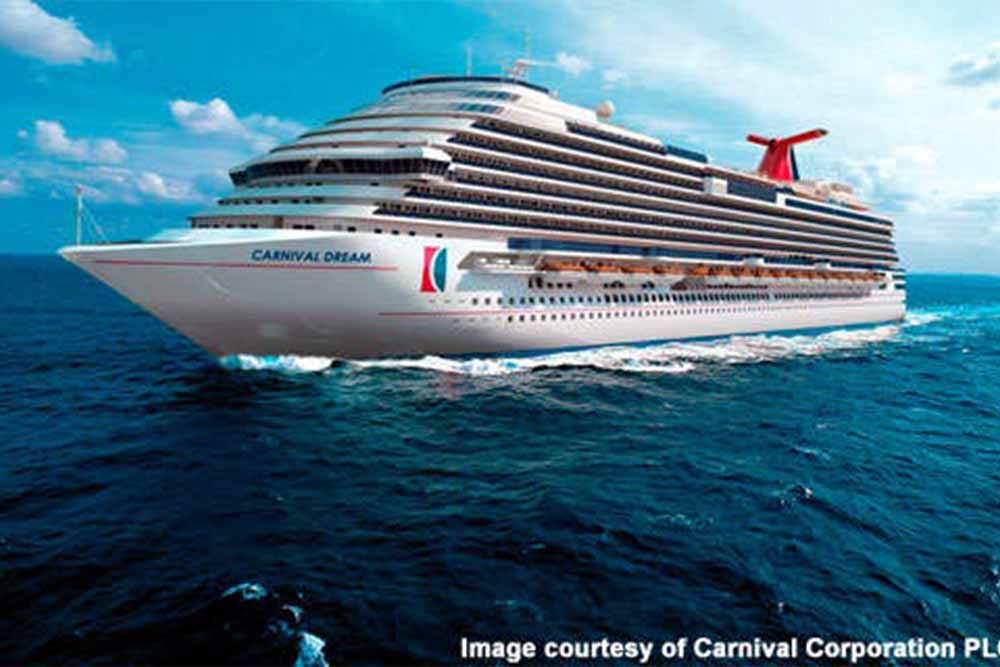 What you need to know before visiting Galveston
Operating out of Galveston Island, the Port of Galveston is at the heart of cruise life and sits in the West Bay at the beginning of the Houston Ship Channel. This port currently has 3 cruise terminals and serves, on average, over 1 million cruise passengers a year. Located on Harborside Drive in Galveston, the port is connected to the mainland via the San Luis Pass toll bridge and Interstate 45. The city's cruise industry has grown significantly over the years, making it a key player in the Gulf of Mexico cruise market.
Captivating destination that offers a blend of rich history, beautiful beaches, vibrant culture, and numerous activities for visitors
Uncover terminal insights and explore the diverse transportation choices for a hassle-free cruise departure. Get ready to set sail!
Are you planning a cruise adventure from Galveston but have a boatload of questions? You're in the right place! This FAQ page is your one-stop source for everything you need to know about cruises departing from Galveston.
Relax and Explore Galveston by visiting some of the most delicious seafood restaurants and steak houses in the area, or explore the iconic Moody Gardens and Pleasure Pier.