Onboard the Carnival Breeze, the excitement is always on the rise. This ship offers a plethora of entertaining amenities, and the adventure begins with popular attractions like SportSquare™ and delectable dining venues such as Cucina del Capitano®.
And if we're talking about hotspots, you can soak in the island vibes at the trendy RedFrog Rum Bar®, or savor delectable south-of-the-border tacos at BlueIguana Cantina™. When it comes to culinary variety, you'll find proof of it somewhere amidst the meticulously manicured bonsai trees, where Bonsai Sushi™ demonstrates its mastery. Let's not overlook the laid-back charm of Guy's Burger Joint™, bringing the roadside burger shack experience to the high seas with burgers crafted by the renowned chef Guy Fieri!
Book your Carnival Breeze Cruise
Galveston serves as a popular cruise departure point in Texas, offering travelers a convenient gateway to various cruise destinations in the Caribbean and Mexico.
Fahrenheit 555 Steakhouse takes pride in offering premium cuts, perfectly prepared to your liking, alongside gourmet appetizers and expertly paired wines. And for a slightly less formal experience, make a pit stop at Pizza Pirate for a piping hot slice, head to the Carnival Deli for a taste of the classics, or indulge in Guy's Pig & Anchor Bar-B-Que Smokehouse™, where you can savor some mouthwatering Guy Fieri BBQ specialties. This ship is a haven for Guy's culinary creations!
Carnival Breeze ensures that the whole family is well taken care of, especially in the realm of aquatic adventures. Get ready for an exhilarating ride down the 320-foot-long Twister Waterslide™ at Carnival WaterWorks™. Kids can enjoy supervised youth programs like Camp Ocean®, Circle 'C'®, and Club O2®. Meanwhile, adults can relish the luxury of doing absolutely nothing at the Serenity Adults-Only Retreat™—following a rejuvenating experience at Cloud 9 Spa™, of course.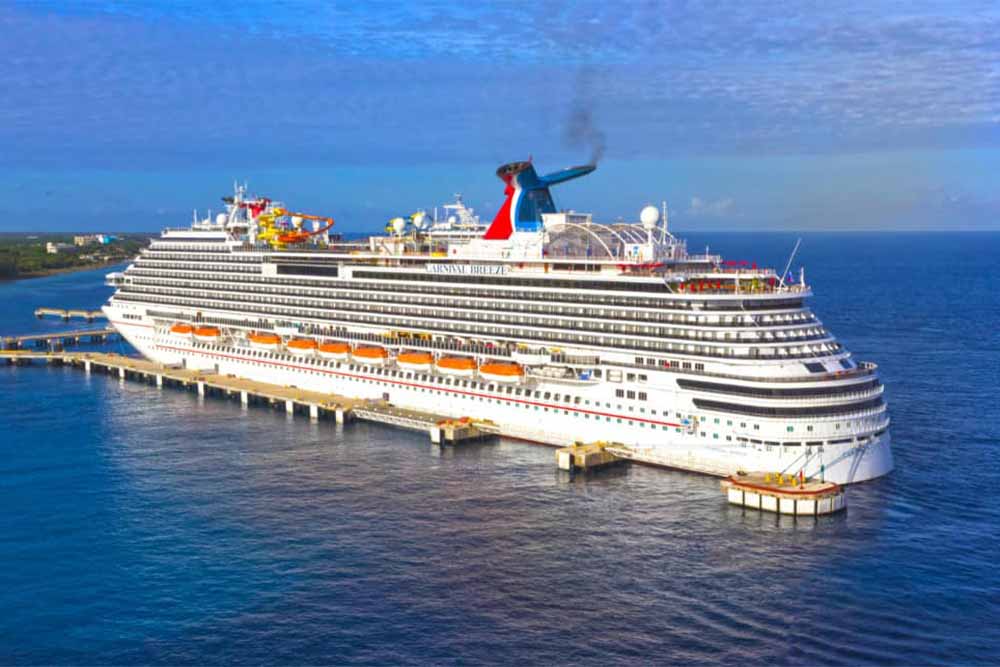 What you need to know before visiting Galveston
Operating out of Galveston Island, the Port of Galveston is at the heart of cruise life and sits in the West Bay at the beginning of the Houston Ship Channel. This port currently has 3 cruise terminals and serves, on average, over 1 million cruise passengers a year. Located on Harborside Drive in Galveston, the port is connected to the mainland via the San Luis Pass toll bridge and Interstate 45. The city's cruise industry has grown significantly over the years, making it a key player in the Gulf of Mexico cruise market.
Captivating destination that offers a blend of rich history, beautiful beaches, vibrant culture, and numerous activities for visitors
Uncover terminal insights and explore the diverse transportation choices for a hassle-free cruise departure. Get ready to set sail!
Are you planning a cruise adventure from Galveston but have a boatload of questions? You're in the right place! This FAQ page is your one-stop source for everything you need to know about cruises departing from Galveston.
Relax and Explore Galveston by visiting some of the most delicious seafood restaurants and steak houses in the area, or explore the iconic Moody Gardens and Pleasure Pier.